Monthly Yin and Restorative Yoga with Myofascial Release
When:
January 30, 2020 @ 7:00 pm – 8:30 pm
2020-01-30T19:00:00+00:00
2020-01-30T20:30:00+00:00
Where:
The Bhuti Yoga Retreat Studio
Nether Langleys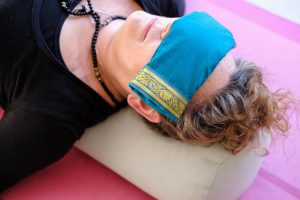 This class is a very nurturing practice and focuses on restorative and yin postures where you will stay in passive poses for approx 5 minutes to allow for deep gradual release of the connective tissue.
Postures are supported using various props e.g. bolsters, blocks, straps, ball. This gives time and space for reflection, contemplation and cultivates receptivity while being deeply calming and rejuvenating.
We will use breath practices (pranayama) to soothe our nervous systems and channel our energy where it is needed. With lots of seated and lying poses held for longer periods of time which will encourage you to melt and release any tension you may be holding onto. This is a deeply nourishing, revitalising and restful practice.
During the practice we will focus on releasing muscular tension by using appropriate props and the 'Yumuna' ball to release our connective tissue and fascia. This class compliments a Yang yoga practice and is suitable for those who may have injuries or health conditions and those who prefer a slower paced practice. But also good for those who are always rushing around and lead busy lives – this class will make you slow down (for a little while). The class includes breathing practices, meditation and relaxation and the postures themselves are very relaxing.
The studio is fully equipped but should you wish to bring along a along a blanket and pillow please do, eye pillows provided should you wish to use. Many people spend their lives rushing around and their bodies are in a state of 'fight or flight' mode much of the time, which can elevate the stress hormone 'cortisol'. In this session we aim to reduce high levels of cortisol and let the Parasympathetic Nervous system to do it's job of maintaining 'Homeostasis' and relaxing your body/nervous system.
This is a monthly Thursday evening class, suitable for all levels. Places are limited. The price per session/class is £9 payable in advance and non refundable unless 5 working days notice is given by telephone.