Good Morning Hatha Yoga Class
When:
August 9, 2022 @ 10:00 am – 11:15 am
2022-08-09T10:00:00+01:00
2022-08-09T11:15:00+01:00
Where:
The Bhuti Yoga Retreat Studio
Nether Langleys
(Yoga Studio), Bungay Road, Norwich
NR15 2YL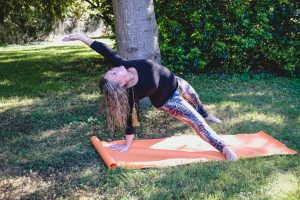 The class is a Hatha yoga practice followed by yin and restorative postures. A number of yoga props are used to enable the postures to be very supportive and comfortable allowing you to truly let go and deepen the postures.  The class includes, postures, guided pranayama practice, meditation and relaxation.
Restorative yoga is a therapeutic practice, suitable for all, many people that live a very fast paced stress filled lifestyle finds this style of yoga very calming, healing and strengthening. Yin like postures focus on the yin parts of the body such as the bones, connective tissue, ligaments, internal organs and the meridians. The simple postures are performed mostly lying or sitting down. These postures allow your muscles to relax completely. You stay in the postures for up to 5 minutes, this makes the practice very meditative and mindful. In these postures you do not stretch as such, you become very conscious of your breath and what you are feeling. There is no end goal or challenge to reach the perfect pose. Just as in relaxation the ANS (autonomic nervous system can relax) allowing your body to be present with what is, thus working deeper and passively. Yin and restorative yoga is an excellent complement to other more 'Yang' physical activities and other more dynamic yoga styles of yoga practice.
Never under estimate the power of a slow yin/therapeutic practice. This class offers the opportunity to unwind and truly 'let go' to pause in stillness, to contemplate and cultivate patience and reflect while feeling completely supported. During the practice we tap into our potential while feeling and observing present sensations and thoughts without judgement. We use our breath to connect to our the deeper layers of our being and to deepen and melt into the postures, we may stay in the postures for 5 minutes to enable our physical body and mind to further let go of habitual patterning.
Beautiful light open studio with under floor heating and wood burner ensuring you feel cosy in the winter months. Free Parking is available at the venue.
Block booking of 4 weeks or pay as you go – Please note those who have block booked will be given priority.
Please note block bookings are non refundable but if you miss a class within the block you have paid for you are welcome to attend another day or evening class within the 4 week block you have paid for. Block bookings £35 drop in's £9.00